8 Spring Wedding Dresses Ideas For Your Perfect Day
Are you on the hunt for the perfect spring wedding dress?
Let's face it—the journey to finding the best-looking spring bridal gowns that suits your preferences may not be as extravagant as an episode of 'Say Yes to the Dress'. You'll probably encounter several disappointing and exhausting moments in between.
Fortunately, this blog is here to help narrow down your options and make the search easier for you.
Read along to see if you find the dress that will make you say 'I do'!
Tying the Knot in Spring
Wedding days are said to be the start of happily-ever-afters in every love story. Many women deem it an event that's truly one for the books. Hence, brides-to-be make it a part of their top agenda to scout for the best-looking wedding dress that suits their aesthetics.
Spring and Summer weddings, for instance, are associated with extra romantic vibes because it signifies new beginnings. Since the season is dubbed the season of love, floral motifs, mermaid-style dresses, and form-flattering silhouettes are stapled pieces.
While there may be tons of options to choose from, the key is to find a dress that feels comfortable to wear, fits your size, and represents your style.
Pastel-colored Gowns
Let's start this list with a pop of color. Springtime is all about blossoming, feeling energized, and marveling at delightful sights. What better way to embody all that than by donning wedding dresses for spring in dainty pastel hues!
It's time to ditch the traditional white gown and try something different. Your dress doesn't have to be a vivid shade of orange, yellow, or green. Subtle baby blue colors and hushed pink are enough to draw your guests' eyes to your bridal getup in an instant.
Supernova expertly manipulates the use of color in this sweet pink number: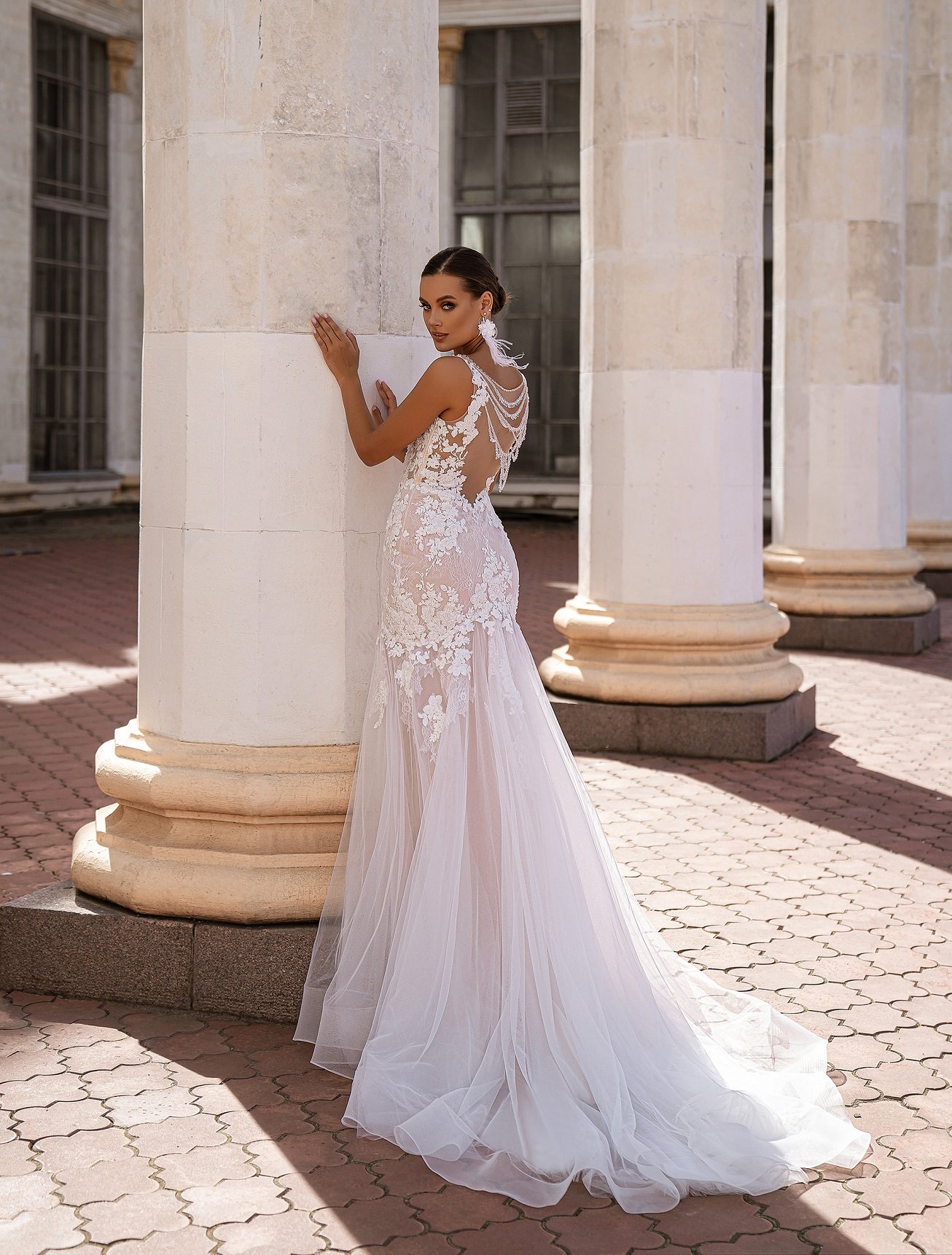 Did you notice how the light hits the gown beautifully? The color is subtle, yet the effect it creates with the natural light is breathtaking. It makes for an exquisite gown to don at an outdoor wedding.
Not a fan of pink?
If so, then check out this fantasy-like blue wedding dress from Maria Anette.
Maria Anette Blue wedding dress
The blue hue reminds you of a calm and refreshing sea breeze on a sunny day. It's a style worth considering for brides looking to exchange vows by the beach. Not to mention, the dramatic layers and frills will make you channel your inner sea goddess.
Youthful & Captivating Bows
Another characteristic of spring worth embodying in your spring wedding dress is the exuberant and child-like mood that it inspires. Spring follows the cold and dark winter, which is why people cannot help but feel excited and giddy to see flowers blooming, birds chirping, and colors resurfacing once the snow completely melts.
Bows as details to your spring wedding gown are an excellent touch to embrace your inner youthfulness. The best part about this trend is you can be creative and playful with the placement of the bows. From an elaborate bow on the neck or waistline to a series of small bows adorning the train of your gown, there are different ways to flaunt this cute trend.
The detachable bow on the Elena Morar bridal gown is a modern take on the said design. It's a great way to flaunt a fashionable take on your bridal getup.
Elena Morar SR-036 wedding dress
Meanwhile, Armonia keeps it creative and elegant with an asymmetrical bow around the shoulders. The detail is made even more striking with an A-line skirt and a high slit.
Lovely Lace
Nothing speaks sexy and romantic quite better than lace spring wedding dresses. It lets you show off a little bit of skin without being too provocative. At the same time, lace dresses are a timeless trend for bridal gowns. It goes well with any season, whether it be spring, summer, winter, or fall.
Curve-hugging lace gowns suit brides who aren't afraid to be a little daring and highlight their breathtaking figure. The Wedding Dress Eve from the Badgley Mischka Wedding Dress Collection below is a perfect example. The lace details complement the gown's silhouette, while the dainty removable lace straps add just the right touch of drama.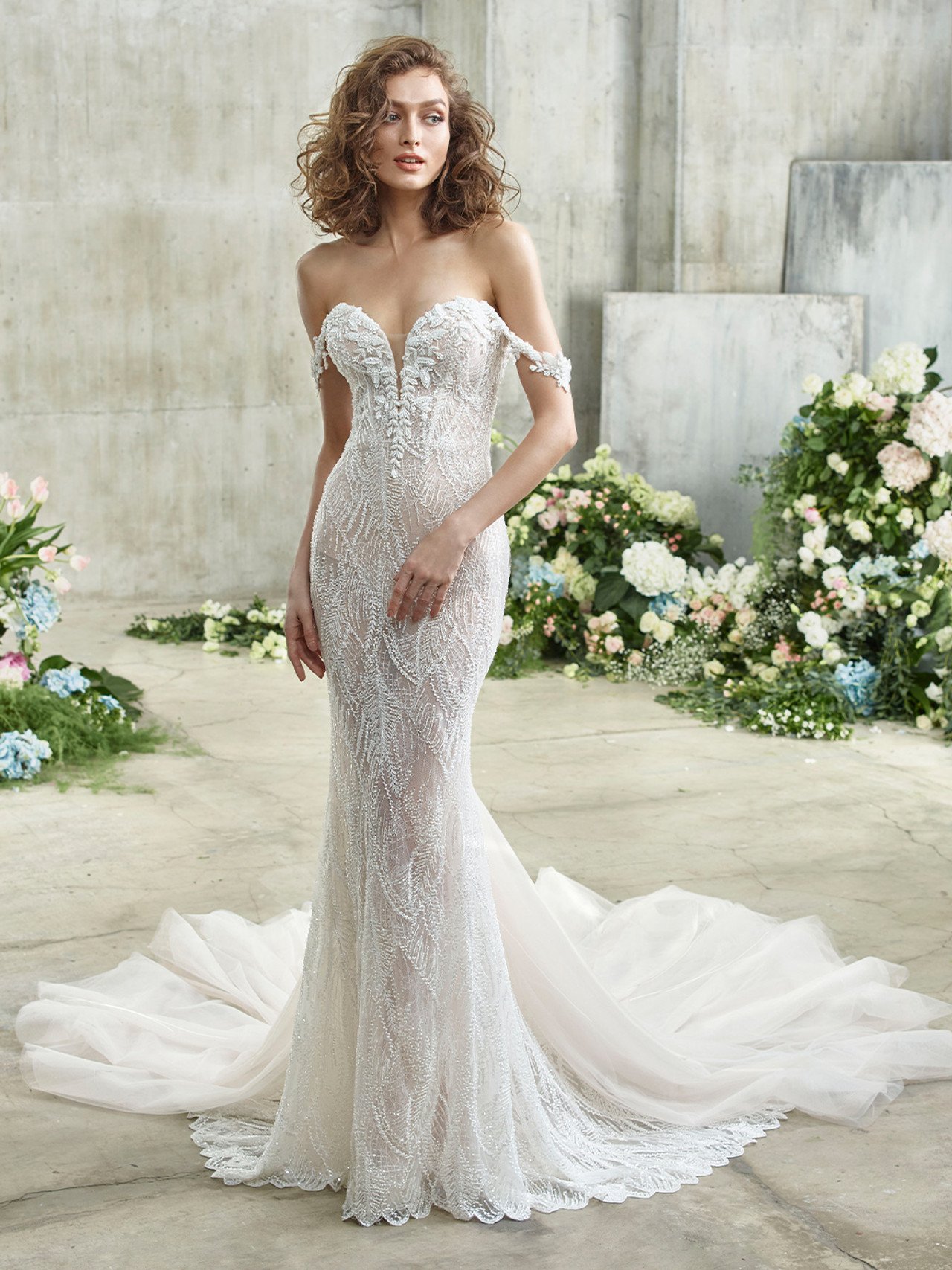 If you're not really into form-fitting dresses, this princess-style wedding dress from Silviamo might be more to your liking. It has puffed lace sleeves, a curly neckline cut, an elaborate back, and translucent fabric that will surely make you feel like a Disney princess about to marry her prince (or princess) charming!
Floral Flair
Remember when the infamous fashion editor Miranda Priestly from the movie, The Devil Wears Prada once grimaced at the thought of using floral designs for their upcoming Spring fashion collection?
Well, lucky for you, the fictional editor-in-chief from hell is not here to question your spring wedding dresses ideas.
Similar to a lace-themed gown, florals are quite a crowd-favorite as well. After all, there's nothing wrong with taking inspiration from your surroundings especially when flowers bloom anew in springtime.
Some style inspirations for this feminine trend include Soprano's charming floral wedding gown.
Soprano Group Wedding dress Miriam.
The flower appliques strategically adorned along the see-through sleeves, sheer corset, and lightweight tulle skirt radiate innocence and effortless beauty. The style is a great choice for brides who are young at heart.
Brides who want something more elaborate might fancy this Elena Morar dress Wedding Dress CT-038.
Elena Morar CT-038 lace wedding dress.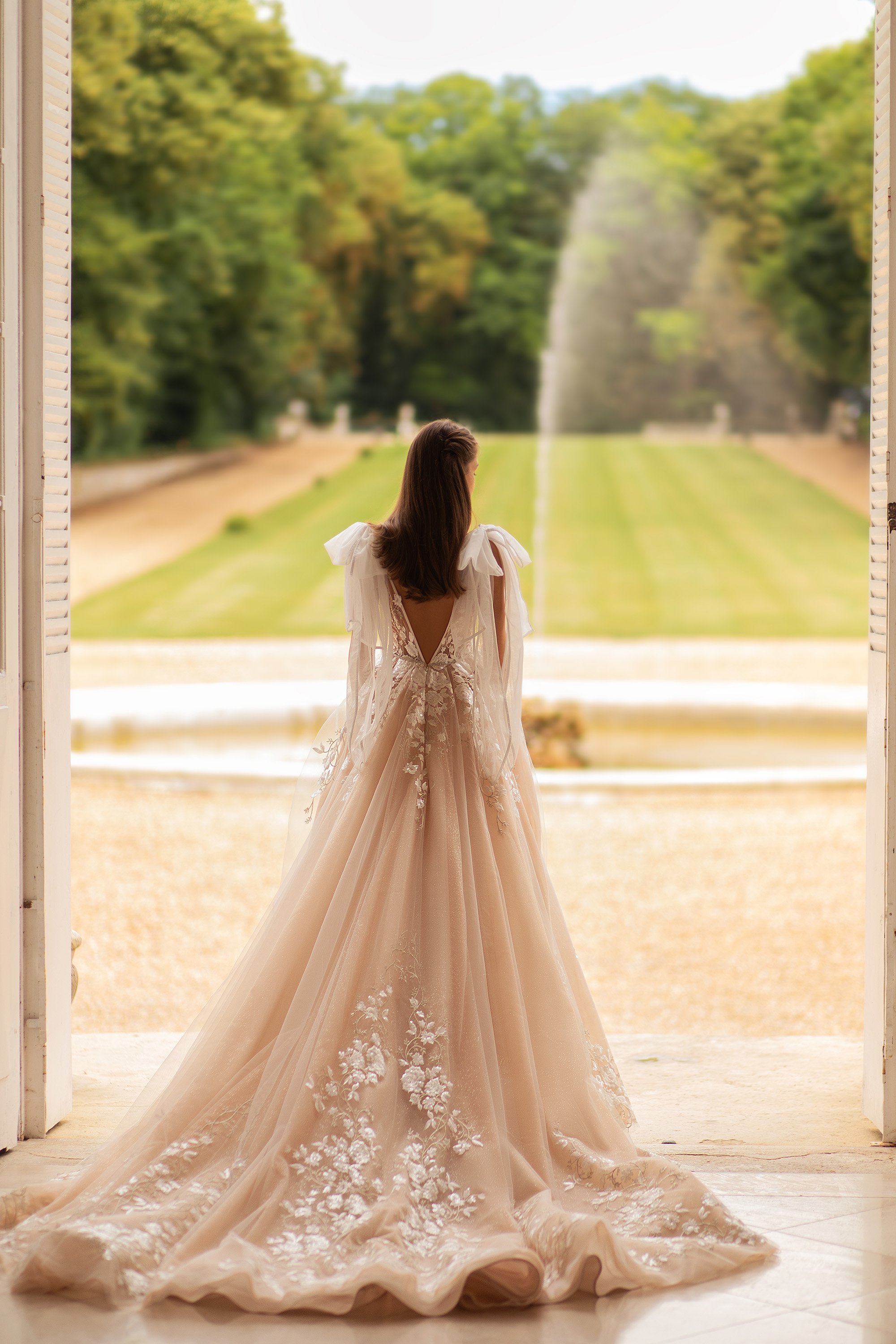 The gown has an open back and lace applique, a fitted floral lace top, plus beaded and embroidered details all rolled into a stunning design. The style is flattering for all sizes and shapes.
Dramatic Capes & Trains
Dramatic capes or trains can make even the most simple spring wedding dresses quite the head-turner. It takes a different level of confidence to don a dress that comes with spectacular detail. Think of a powerful queen about to ascend to her throne, a majestic witch with an air of mystery around her, or a confident and independent woman celebrating her femininity on her special day.
This light, chiffon wedding cape pairs well with backless wedding gowns or dresses with a low and revealing back detail.
Looking for Spring Wedding Dresses Ideas?
What about a minimalistic yet bold take on wedding gown trains? Oksana Chorna gown undeniably takes inspiration from the saying, 'less is more'. Not to mention, the asymmetrical drapery on the gown is reminiscent of the powerful and elegant goddesses.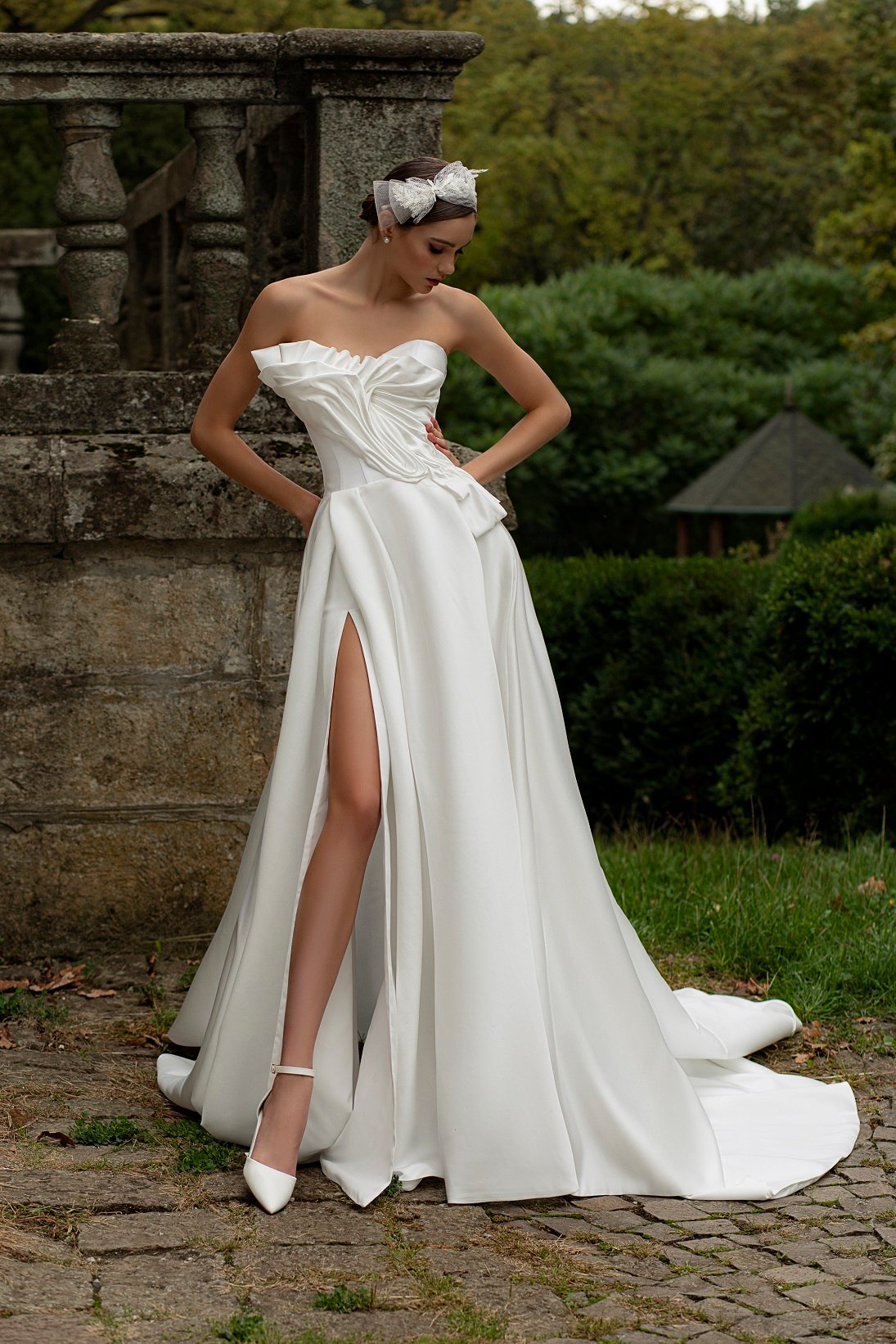 Unconventional Neckline
Some brides are happy to embrace their gorgeous curves, while others want to flaunt their amazing necklines. If you belong to the latter, then you are probably someone who is comfortable in her skin and is always dressed to impress and make a statement.
Wedding dresses with magnificent neckline effectively draws attention to your face and the upper half of your body. That's a must if you want your guests and your spouse-to-be's eyes focused on you alone as you walk down the aisle.
The smooth off-shoulder and 'godet' silhouette in this gown make it very versatile in terms of how you want to style it. You can tie the mikado fabric loosely so that it embraces your shoulders in a sensual and enchanting manner. Otherwise, you can create a more structured finish for that modern and stylish look.
Better yet, why not sport this fitted and flared off-the-shoulder dress by Maria Anette? The overall look of the gown accentuates contemporary, urban, and chic spring wedding trends.
Short & Sweet
Most spring weddings are held outdoors. That means you'll be exposed to the sun's heat for the entire duration of your wedding ceremony and reception. Short wedding dresses are popular during the spring and summer seasons because they are a lot easier to move in and allow your skin to breathe.
Short dresses are likewise perfect for petite brides and brides who love to dance and mingle with all of their guests.
The fitted shape of Oksana Chorna's Amani gown gives just the right contrast to the lacey and translucent A-line skirt.
Another unique spring wedding look worth checking out if you prefer shorter gowns is the mini tulle dress from the same collection. It is a spring wedding dress with sleeves made of sheer fabric and floral appliques on the front and back.
Oksana Chorna Judi wedding dress
Mermaid-Style Dress
Channel your inner Ariel and go for a beach-themed wedding with a mermaid-style bridal dress. This specific type of gown never fails to leave jaws dropped and eyes in awe when worn. It's sexy, elegant, and alluring—just the three adjectives that any bride would want to be associated with her on the day of her matrimony.
Are you going for a conservative yet strikingly royal look for your wedding? Lanesta's Coco Mermaid Gown is a great choice. It has a solid crepe fabric made even more exquisite by its Queen Anne neckline full-length gown, and belt detail.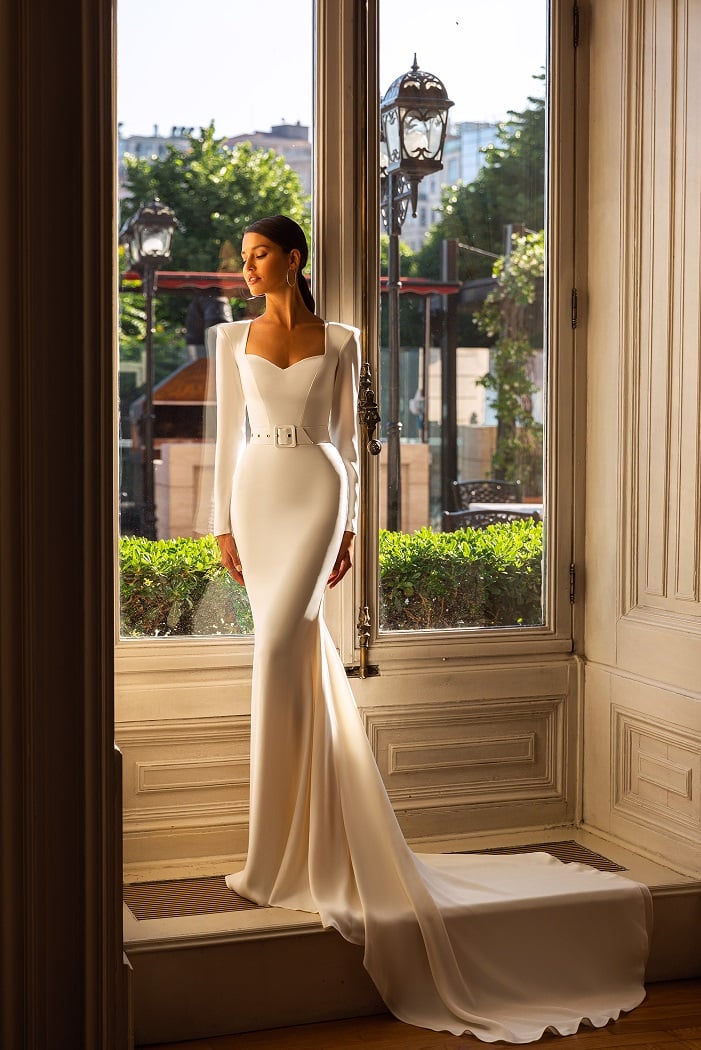 Alternatively, the Ariel dress from Oksana Chorna might be more to your liking. It has soft ruffles that start at the knees, an off-shoulder neckline, and an intricately embroidered pattern from head to toe.
Oksana Chorna Wedding Dress Ariel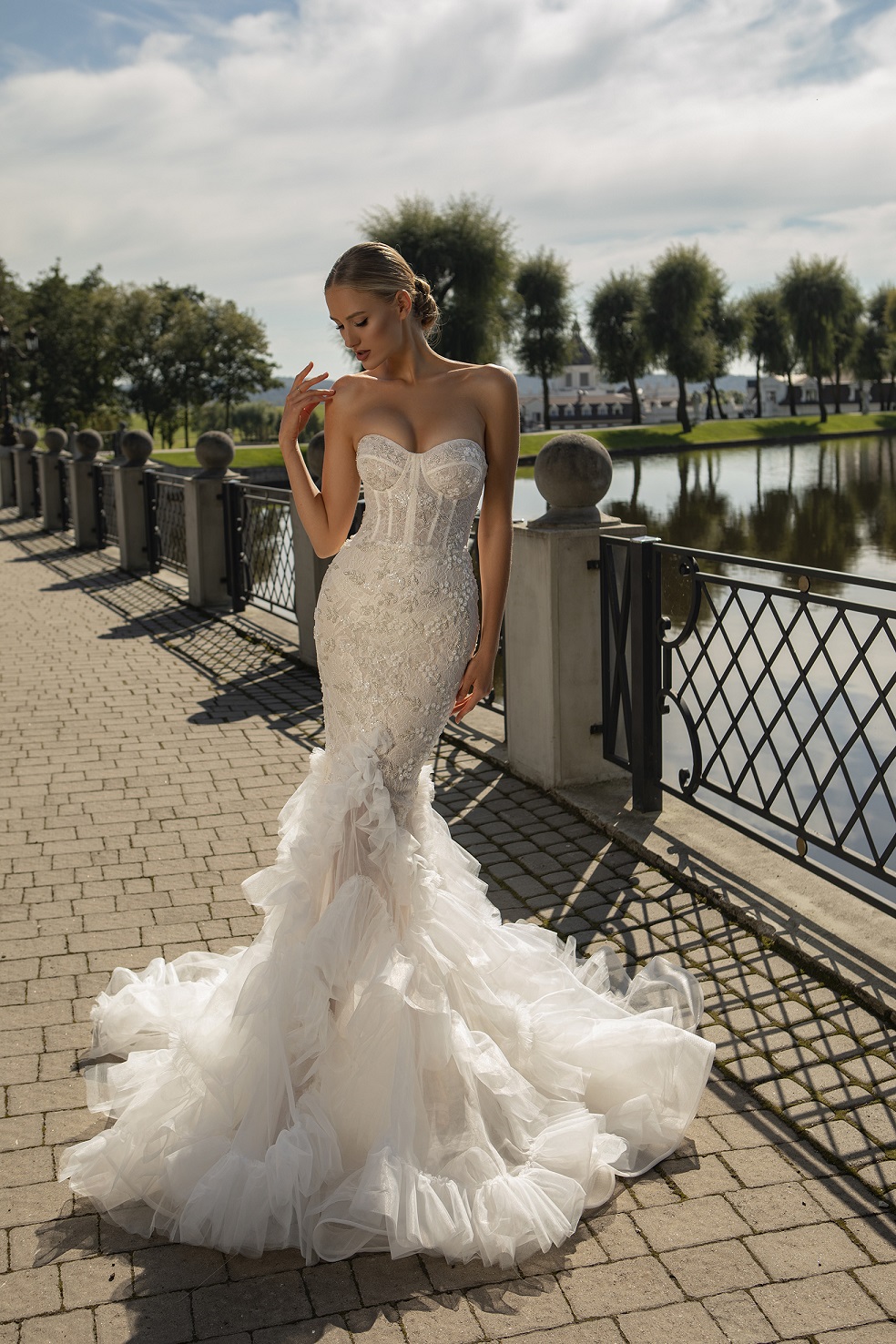 Get Married in Style!
Take your sweet time exploring all the different types of spring wedding gowns enumerated above. Remember, it is alright to stick to your style, but stepping outside of your comfort zone and trying something new surely wouldn't hurt!
More importantly, if you are still on the lookout for a refined and reliable wedding dress shop, visit us at Nycitybride! We offer a broad variety of wedding gowns, evening dresses, and accessories to suit all your bridal needs. Check out our website or visit our shop in Brooklyn, NY.
Share this article with your friends ...